Episode #11 – Global Development: Products & Services – Part One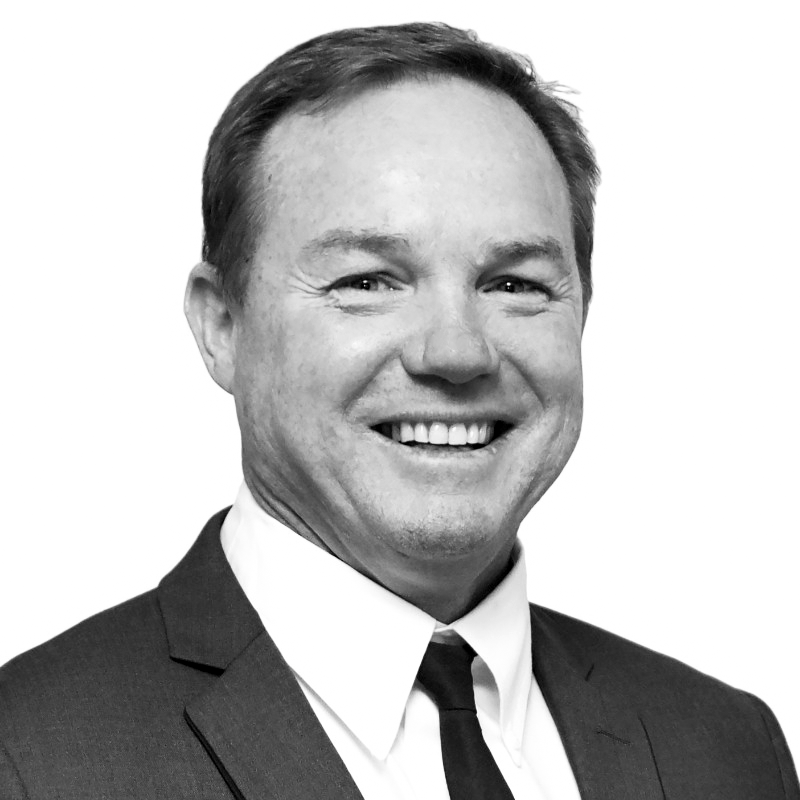 In today's episode, I am joined by the Director of Sales & Marketing for Mineral Systems with McLanahan Corporation – Chris Knowles.
I have known Chris for a little over a year, after first working with him at McLanahan developing a strategic plan. Not only have I discovered that Chris is a passionate and knowledgeable sales and marketing executive, but also a person that places great emphasis on his people. In this two-part episode, I sit down with Chris and have a chat about:
Technology advancement
Mineral Systems
Product Development–risks, alternatives involved, and impact of development time frames versus product life
Challenges and solutions in introducing new products to new markets
---
Episodes 11 and 12 make up a two-part episode. Part two can be heard here: Episode 12
SUMMARY KEYWORDS
business, market, mineral, chris, customers, manufacturing, equipment, regions, manufacturers, service, opportunities, australian, organization, bit, world, marketing, newcastle, australia, challenge, lower cost
SPEAKERS
Graeme Fitzgerald, Chris Knowles
Graeme Fitzgerald  00:09
Welcome to manufacturing mastery with Graham Fitzgerald, the podcast. My name is Graham Fitzgerald. And for over 30 years I've led some of Australia's largest manufacturing organizations, right in the highs and lows, the occasional failure, and the plentiful successes that inevitably come with being in business. This podcast is aimed helping you progressive Australian manufacturer with practical and real world advice on navigating your pathway to sustainable success in manufacturing. Myself and my special guests will cover everything from how to embed a planning framework into your business, new approaches to innovation, the importance of culture and how to lead change, and navigating the new normal as an Australian manufacturer. So manufacturers let's master Welcome everybody. In today's podcast, I'm joined by Chris Knowles. Chris is a highly credentialed, very experienced sales and marketing leader in the resources sector. I've known Chris for a little over a year now, first working with Chris at McClanahan Corporation in the mineral seeds and mineral Systems Division, where we work together as part of a team to develop their strategic plan. During that time, I understood that not only is Chris an experienced and knowledgeable sales and marketing executive, but he's also a person who places great emphasis on the development of these people. In my experience, he demonstrates leadership qualities that's not often seen in his field of expertise. Chris holds the role of director sales and marketing in mineral systems, which is headquartered here in Newcastle, New South Wales, with responsibility for global sales and marketing across Australia, Asia, South America, South Africa and Russia. During the last 10 years or more, Chris has been part of the team that's been let's seen mclanahan mineral systems established its place as a global supplier of processing equipment costs across a wide range of markets and regions. This role is provided Chris with the opportunity to experience many of the challenges facing manufacturers in scaling their business. Chris is a person who has a genuine desire to see customers receive the products and services they want and need for them to succeed and be able to offer that experience and that service in any location across the globe. And today's podcast theme, as I was thinking about it was really focused on global development products and services. So the idea for today's podcast came from a recent conversation I had with Chris, when we've been discussing the rapidly changing world in the resource sector, the inexorable shift towards renewable energy, and the new minerals and all enable that the covid 19 pandemic and its impact on globalization. And the opportunities for resource development in new markets and locations are just some of the factors driving the change that Chris is grappling with, and his role in mclanahan. During my discussion with Chris, over the last year, I've learned a lot about the challenges involved in developing global business and introducing new products in new markets, not an international competition. But I like to say that locally in Outlook, over the last 10 years, or so many studies in Australia manufacturing have highlighted international expansion as a key element that will support sustained success. Hopefully, we can touch on some of the lessons learned and important considerations for those who are looking to take on that challenge and that opportunity. So welcome, Chris to manufacturing mastery.
Chris Knowles  03:44
With Hey, Graham, it's nice to be part of this series. I look forward to having spending a few minutes having a chat with you.
Graeme Fitzgerald  03:54
Yeah, so part of the process that I like to run, Chris is try and give a little bit of structure. So I'll just go through a few sort of structured questions, because otherwise we'll sit there and talk for hours like we've done in some of those strategic sessions. So so maybe we start off, can you share with us a bit of your background, your experiences and how that shaped your approach to business in 2021?
04:16
Yeah, so as you mentioned in your intro have been working for McClanahan. Well, I'm in my 12th year of service now. And I have been working in manufacturing for around 20 years. I came to mclanahan after a long stint as General Manager for an Australian manufacturer who designed built and operated recycling centers and resource recovery facilities right across Australia and a few in New Zealand as well. During the late 90s and early 2000. I feel the Australian manufacturing sector was really trying to reinvent itself after decades, I guess are decades in decline or relative decline relative to other other regions around the world. And I had spent the latter part of the 90s in a couple of Australian software development companies, essentially writing what was the it wave. And then in the early 2000s, Macquarie Graduate School of Management and set up an MBT program, Master. This allowed me an opportunity to trans transition my knowledge from pure it into a more real, real world understanding of how technology integrated with business rather than just where I had been comfortable with, you know, purely standalone IT services during the program, and during the time that I worked. In those it sectors, I became interested in how advances in technology could help Australian manufacturers compete on the world stage. That interest is sort of stayed with me. And I've been pretty fascinated to witness how the convergence of different technologies as relieved humans from repetitive, mundane activities, as was the case in larger manufacturing facilities in Australia, and also how technologies have removed humans from hazardous activities in the working world. And how they've enhanced business in communications, which is what we're experiencing now. In the minerals and mining industry. Very good.
Graeme Fitzgerald  06:54
Let's guess a bit of a surprise in, in having a person who's leading marketing and the sales role with such a depth of it. connection and that interest in the the world of technology and advancement, that's not something that's common that I found certainly,
07:17
no, well, it's a good point that you make. In terms of qualification. My qualifications are in business and marketing. And it was just an industry that I thought I could use those in. But I feel fortunate, given the the role that the digital marketing plays in, in the business world today and also in social and environmental, are circles. It's sort of handy to have some ID background and in computer background. In fact, it's essential.
Graeme Fitzgerald  08:03
So with that, with that background, when you started your journey with mclanahan, what stage was the business set with respect to the markets they served in the locations? And guess what are the key points over the last 10 years that had driven the change from mclanahan of 2010 to mclanahan of 2021? Moving into 2022
08:27
Whoa, yeah, it's going fast, isn't it? It is, I guess the first things first, let's look at the change. I guess a little more of a decade chain since when I started with McClanahan in 2010. At that point, McClanahan, I felt was in a pretty good place. And obviously, there was so much attractive things about the size of the organization, the market that was playing, and the culture within the organization that attracted I had the feeling in the first few months that McClanahan was just trying just starting to find its identity identity locally, though, are very small organization isolated from the US parent company, now working almost exclusively supplying the coal mining industry. They had some really talented people. They had sound and progressive management, which was really of interest to me, was quite attractive to work in, in in a progressive with a progressive management team. And they found a bit of a niche designing customized equipment, predominantly comminution equipment, which is crushing equipment, suitable for soft rock mining. They had been quite successful. In the early phase in China, selling equipment made of made in Australia to be used in underground mines in China, which is, I think quite a feather in their cap. They secured some key customers, bhp and Wollongong. Gentlemen bar resources in Queensland and are quite successful in delivering some unique equipment into the Latrobe valley of Victoria. I know that they'd also developed some really close relationships with Junior miners. And that was giving them some experience about more about how the coal mining business was working, and how difficult it was for junior miners to get investment and sort of that shape some of our commercial structure, which was challenging, but very interesting. The market share that McClanahan had at that time was what was really quite small. But you'd probably expect that going into an organization that was that was only just really starting to hit it straps, but but the company was profitable. Yeah, lost the industry, the mining industry was in, in a growth phase, we as a mclanahan, didn't really have any significant market presence. But we didn't have enough clout if you like Marketing Cloud to be or brand presence to be the top three or four OEM suppliers. And that made it difficult in mining. To be able to engage with the top miners, in capitalize on that investment in growth.
Graeme Fitzgerald  12:02
Are you looking to grow your manufacturing business need some support to achieve your goals? My manufacturing mastermind group is a great place to start. This exclusive group receives monthly worksheets and guidance around the five key principles of manufacturing growth is a monthly live virtual q&a session and the live mentoring call with a mastermind member where we troubleshoot the business challenge of the day. Plus, this group comes together on a quarterly basis for a one day workshop to ensure accountability in the delivery of your business growth plan. Find out more by visiting Brian fitzgerald.com.au slash mastermind.
12:46
So that's sort of where where they were at the start, and you asked me key points over the last 10 years, they sort of blurring to each other. But I think if I were to look at the summary of the key drivers that drove change, there are two things that stick in my mind because they continue to be the the Lords of the laws of evolution and change. The first one is the demands of the market. Yep. As, as the, as we actually captured more of the market and the market grew. Then our customers and and the market itself drove change. And the second thing was the vision. So this forward thinking CEO that we have on hand, he was constantly looking to generate new opportunities for the company, and also for our people. So as the as, as we acquired new customers there within those new customers, there were key accounts or key customers that actually challenged our business to be more responsive, more efficient, more innovative. And at those times, our CEO in turn challenged us to think differently, to behave more responsibly, to initiate change in our process or our structure. And more importantly, I think to change your attitude, to allow us to actually meet those goals and write I'd actually found that quite unique, right? Because there's often there's often no resistance and inertia for management teams, when they have you know, found a profitable formula and and sort of struggle Should their business. And there's always an inertia to change as market changes, but in this case, I think, Neil, relatives, those challenges, it's a
Graeme Fitzgerald  15:14
really a bit of a courage having the courage to actually back yourself but trained to meet the needs of new customers. And that will that's taking you to new and better places, obviously.
15:29
Yeah, absolutely. And having that, what I call that existential flexibility. Within a management team, it's very rare. And that is all which, you know, I guess we can talk about but that's, that's an attribute that is actually required, in my view, for SMEs to be able to evolve as the market. We we did have, we did have other milestones, so I think actually impacted us really positively. We secured some new people, as we grew with diverse experience that was allowing us to do it to drive continuous change in reinforced that forward momentum that that our CEO initiated, we were able to take opportunities to grow to drive value for our customers are good example in 2000, and say, 2000, oil for thereabouts, say, opening up the service center in McCoy, which was noticeably lighter than that, which is closer to our customers in Queensland. Which that was quite an another act of faith and courage in our people and in our customers. Because at that time, there was a general retraction in the market where a lot of our competitors were consolidating and centralizing to save money, make ourselves internally efficient, internally efficient. Yeah, and then, similar time, I think we, we also took the step to move out of our services, serviced offices in Newcastle, open a warehouse in waterbrook, just west of Newcastle, that we could be able to offer faster assembly, so it could be faster than the market and also offer greater aftermarket services, again, broadening that capability and broadening our connection with the client. Yeah. And in 2000, late 2012, early 2013, again, in 2016, we went through a series of strategic planning workshops, and we're looking to build more robust and flexible plan for the future. Yeah, just after that, we established the service capability and service facility in Perth. And that was a significant step. In fact, again, a courageous step in my view, because at the time, we had one key customer in Western Australia, but because of the strategic planning that we had worked through, we, we identified at that point, that we needed to diversify. And we needed, we knew that there more business opportunities in mining would come from Western Australia and region. So right, they were really the key points of the stick out in my mind that drove change. And you can probably, you probably see a bit of a pattern there a bit of a cultural pattern of how, how things happen.
Graeme Fitzgerald  19:06
Yeah, so it sounds like there's a very, you know, having the courage to add new products or new services to the business, the the willingness to actually think about it and do the planning, and actually work out how to do it challenge the team, from a leadership perspective on how to go there. There's some themes that are coming up there, Chris. Yeah.
19:35
I think something that you've, you've had an impact on as an as a consultant, and you've experienced is that the management team? We're not afraid to ask for help. So some organizations again, there is this feeling that we must We must know it all. And management often resists external expertise and experience. And they, because they are afraid that that might be seen as a weakness that I don't know at all. But with kleinhenz worked with a lot of third parties we've worked with always tried to build our understanding of international markets. And when we had to find lower cost sourcing during the downturn, austrade helped us there started the New South Wales department of premier. Because, you know, they were they were looking at, at supporting regional manufacturing. We've worked with Hannah net, Newcastle, uni tundra, we've called in specialists such as yourself, for giving us a better understanding of business strategy and planning, to sense check, and methodology. And, you know, to give us some out sort of outside perspective, we we've engaged with marketing specialists, h HR specialists, we don't need to have all these resources in house, we're actually too small to have these resources in house. They're a cost, they're an overhead cost, in fact, use quality consultants, because they give you a broader set of experiences, and you spend less time spinning your wheels internally.
Graeme Fitzgerald  21:32
That's, that's, again, another, it's certainly different to some other business experiences that I've had having that outlook. So that sounds like there's a there's might be some noticeable difference between 2010 2021
21:51
Yeah, absolutely. We've gone from a very, very small business in 2010, or working out of a service office. in Newcastle, no, no significant market presence really narrowed customer likes. Not so much productive depth on but we did have good people, we had passionate local leadership. And as you'd expect, in 2021, we have a much larger facility, a larger working group, we own our facility, we have a I guess you'd say we'd have a more diverse product portfolio still not necessarily huge in terms of its range, but certainly more diverse. We have a more diverse skill set within the organization. And give you an example where as I mentioned in 2010, we're pretty well exclusively manufacturing for coal operations, we this year we've hit 60% of our total revenue, including aftermarket has come from alternative minerals industries, and also around 50% has come from international regions. And and obviously, as you're aware of and you're intimately involved in, we now feel the need to be able to go through another series of strategic planning sessions to set the platform for 2030 because our world has changed and we need to be prepared for
Graeme Fitzgerald  23:36
if you're wanting tailored one to one coaching for fast results, perhaps my mentoring services the option you need. This package includes to one to one sessions each month and the weekly accountability call as well as access to the growing network of members in the mastermind group. Find out more by visiting Brian fitzgerald.com.au forward slash mentoring or contact me directly via the form on my website to understand how I can best help you grow your business well that's a that's a that's a fascinating bit of a trip along that journey that you've just said things blur into each other but when you have an opportunity to look back, some key moments do stem tend to stand out some key drivers so that's Yeah, fascinating. So as you know, Chris, I'm I'm passionate about businesses having a clear direction and mission and you've just sort of shared that. You know, the importance of having a business strategy, little way to actually achieve that mission. Can you share with us some of your experiences that you've come from the creation of the mineral Systems Division in McClanahan, while only maybe three to four years ago and and how that's approached, how that's changed your approach to global development of the division. You just touched on it. We're starting to see that flying through
25:00
Yeah, I think this is sort of emerged mclanahan from mclanahan, to mclanahan mineral systems as emerged from the, from the need to diversify, and secure a long term sustainable business strategy. And that's, that's not enough. That's nothing different from our organization to hundreds of other manufacturing facilities around the country. Of course, as I mentioned, we could have, we could have resisted, as a group, we could have continued to offer equipment as we did in aggregates and sand quarries, or in agriculture, and waste, because we had some capability to provide equipment in that area. And for someone who's listening, though, might think well, that's diversification. But thanks to some of those strategic planning opportunities, we were able to look at ourselves and assess ourselves and recognize that our structure, our skill sets, our product offerings align much more closely to larger, more complex long term mining and minerals processing applications. Of course, it also aligns with higher buy risk and longer term sales strategy. But the reality is mclanahan is a relatively high high cost OEM original equipment manufacturer, we retain highly skilled engineering service personnel. And because of that, therefore, we need to necessarily focus on higher value industries and projects where where we can provide engineered and configured systems, and that there's a value attached to that. And yet, okay, we could, you know, we could actually fundamentally change our organization to be lower cost. But in our view, that doesn't, that doesn't match with our DNA, and our culture, and it's a race to the bottom for us. Yeah. So we we understood, as everyone does, I think that that coal mining opportunities will decline. And that's, that's inevitable. And at the same time, alternative minerals exploration and processing will continue to grow and grow rapidly. But in but but global mineral systems trying to manage all minerals in all regions, that's a way to broaden the playing field for us. So they're actually drove a little bit of anxiety into how we might might succeed around sort of what the business would have to do to become a global mineral supply. So you know, what could we do? Yep, we had to embark on a fairly robust research project in a short period of time to understand where minerals occur around the globe. Alternative minerals, which regions what, what processes suited McClanahan equipment? Where we could provide a nice solution, and could we actually compete. So competing is, is one of the issues it's, it's the markets are easy to find out whether you can compete, and whether you can deliver a questions that we have to ask ourselves, right. And that means that means what market attributes influence the Buying Criteria and buying behavior. So there's, you know, obviously, I don't want to get into into sales one on one, but we often, you know, as as much as manufacturers, we often go Well, look, I manufacture this equipment or I provide this service and therefore, and there's a demand in that in that equipment or service, or similar in that region. So you you often focus on Selling, and you don't put any
30:04
conscious effort into buying. So what are the Buying Criteria in those areas like Russia or Kazakhstan, Mongolia? India? What are the what are the nationalist policies or sentiments that might prejudice foreign supply?
Graeme Fitzgerald  30:22
So really understanding your customer? Who is your customer? understanding who your customer is, is a really big part, is it? Right? Yeah, who is the customer
30:30
and what influences the way they make purchases and make investment decisions. So, you know, in some countries, foreign ownership for mining projects, is not accepted. And so there's normally a local company that has to stump up the money that typically not as flush as some of the global markets, so their methodology of going to market investing is different, they may be supported by the local government. And if they are supported by the local government, then there's normally a, an attachment to it, and in that they need to buy locally. And that might also occur if they were using a foreign, mobile or foreign country or foreign company to invest that investor may then say, well, we want you to invest in equipment and processes that are native to our country, because we're investing. That's how we get the funding. Yeah, but are there other things like tariffs and duties and the freight barriers, if it's, you're currently doing one that's, that's in northern Russia, and it's frozen 50% of the year and, and it's 2000 Kay's from the nearest port, and so you know, you need to understand the customer and the product in the region that they work in, before you actually start marketing and making plans to attack that attack that that type of market. So that was a sort of research that we did and out of that precipitated a matrix. And that matrix allowed us to prioritize regions or industry sectors. So we might say that, okay, we found that in Chile, lithium is a is a market that suits us. And gold is a market that suits us, but their bid call is not. And so, you know, it allowed us to, I think if the business a bit of confidence that we knew we could identify a clear pathway and a clear timeline for developing not the market, but developing a business plan that gave us primary secondary strategies around which market we'd go for a bit of a long winded response but certainly, that's the process really
Graeme Fitzgerald  33:06
drew out the points of actually having a really that you talked about competing. So in any market competing means what do you what are you the best at and what are you what are you bringing to the table and you know, in in a world where you're not the likely to be the cheapest or lowest cost manufacturer all the random is still gonna meet the market on price so you've got to be there or there abouts. So that's, that's a really good point actually really helpful for others who are listening I thank you for being part of this week's episode was great to have you. I'm always keen to hear your thoughts, questions, ideas and suggestions for future topics for the podcast. So please get in touch to my Facebook page. Graham Fitzgerald, manufacturing growth specialist, my LinkedIn page or via my website, Graham fitzgerald.com.au. That's gra me fitzgerald.com delay. If you're enjoying what I'm putting out here, please rate review or subscribe to the podcast so more manufacturers can find out about it. And we can build our community masterminds, manufacturing this great nation. Talk to you soon.
Request a
FREE consultation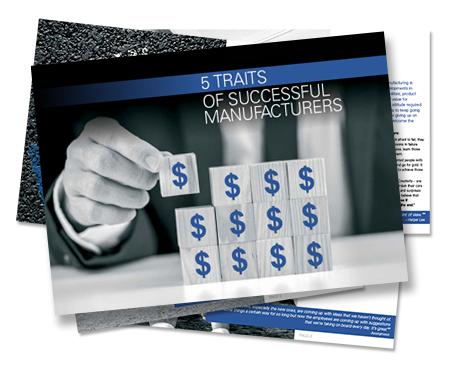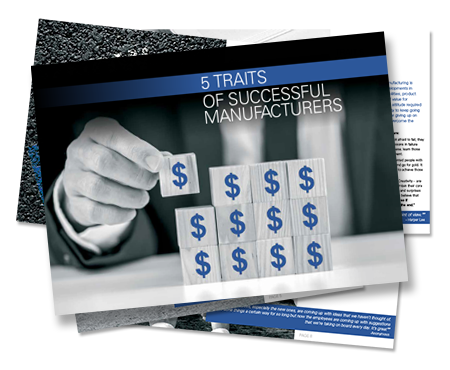 SPECIAL OFFER: 5 TRAITS OF A SUCCESSFUL
MANUFACTURER EBOOK
DOWNLOAD NOW