Leadership aiming to double production
Often some of the most challenging problems encountered in operating a manufacturing business don't directly involve the manufacturing process.
Rather, it is the leadership and management of the people who are responsible for executing the manufacturing process that can cause hiccups and be an impairment to productivity, quality control and business development.
Working with a home product manufacturing business that was experiencing resistance to change from its staff, it was evident that for the situation to improve, we needed to work with the operations leadership.
Tool gives insights for managing people
Employing the Life Styles Inventory (LSI), a tool that uses both self-assessment and 360° feedback from colleagues to identify individual thinking and behavioural styles, we achieved some significant understanding of the basis of the challenges in improving productivity.
Feedback from staff indicated that the two key leadership roles were operating with almost opposed styles. One leader was operating with an affiliative style, whilst the other – who was trying to generate change, was seen as being more oppositional or power style leadership.
The LSI was used with a view to understanding how both managers were different and to establish better methods for working together.
The results revealed 'the way they behave' and, in the interests of learning further, they were given the opportunity to show each other their results.
One manager demonstrated an aggressive and defensive style of leadership, with elements of being a perfectionist. The other showed a more non-confrontational style of leadership.
Turning the spotlight on the company's leadership revealed some interesting insights about its operation, that also needed addressing.
They recognised the company had not established a clear set of goals or targets, which people understood were required for success. Once these goals and targets were identified, it was evident that we needed to improve the productivity of the team.
We established two high-level, simple results to strive for:
To double the productivity for finished goods per team each day
To increase the productivity of the installation team by 30 per cent
The keys to success
Three elements of service to be achieved whilst focusing on the 2 areas of improvement were:
Lead time – retail (order placement to installation) and wholesale (order placement to delivery).
Service response – Customer service to respond to customers regarding a service issue within 24 hours of notification.
People – all are treated with respect and are trained to be efficient. Below satisfactory performers are worked with to improve.
Constructive leadership is required to get sustainable results
Whilst directive leadership styles may achieve short-term results, they rarely allow an organisation to achieve sustainable longer-term change. Constructive styles of leadership focused on achievement have been identified as the path of choice within the organisation.
As a consequence of the development process some people have chosen to 'de-select'. The organisation is now focused on using the understanding gained from confronting the leadership style issues and has quickly started to implement the changes required to achieve some very high improvement goals.
The team is aiming to achieve two high level targets – doubling the production of finished goods per day and increasing installations by 30 per cent.
***
As a supporting partner and confidant to SMEs, directors and managers, I work with you to guide you towards a healthier work-life balance and improved mental well-being by ensuring that your business is giving you the results your time and effort deserves.
Start your journey from low returns to increased growth today. Get in touch with Graeme to find out more or book in for a 60 Minute Growth Session.
Are you looking for sustainable success?
Book Your Free Discovery Session NOW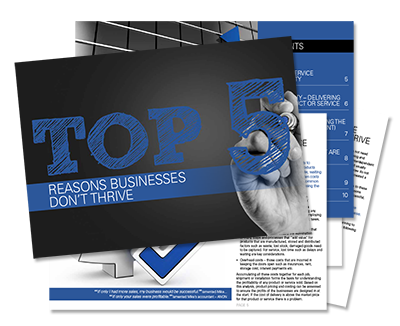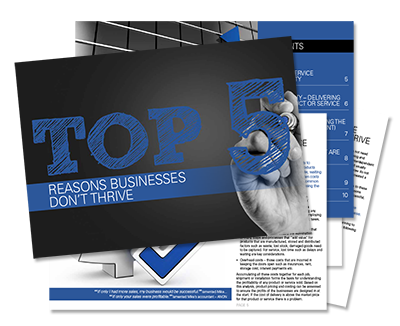 SPECIAL OFFER:
TOP 5 Reasons Businesses Don't Thrive
DOWNLOAD NOW