HOW A LUGGAGE RETAILER TURNED LEGACY OVERWHELM INTO ACTION
Taking over a legacy business has its advantages and disadvantages. On the one hand, you're acquiring a company that has already proved successful. On the other, you're potentially incurring existing financial or operational issues.
When it's a family business, some additional pros and cons also come into play. While you will likely have a good base of working knowledge, you may also feel immense pressure to keep things running smoothly and ensure the company's future. A few years into this situation, the owners of a family-owned luggage retailer – Two sisters – came to me for support and monthly one-on-one business coaching.
BACKGROUND OF THE BUSINESS
The retailer operates from two Sydney-based stores. It also has a website for online sales. Originally started as a luggage repair business by their father back in 1952, (an offshoot of their grandfather's shoe repair business) it developed into a retail and repair business. As a family business everyone worked in the business and after the father passed in 2016, responsibility for the business was handed on.
MANAGEMENT STICKING POINTS
Since taking over the business, they've had a lot to deal with, including:
Creating and understanding a monthly cash flow budget – and sticking to the budget
Determining how to clear out excess stock
Identifying what to invest in as core regular selling stock
Leading the team and figuring out the best ways to motivate them
Finding new ways to generate business and sales by looking at market trends, what competitors are doing, and how things could be done better
In 2020, the COVID-19 pandemic put additional pressure on the business. The biggest was continuing to trade and sell luggage in a world where no-one was travelling.
BREAKING DOWN THE BIG PICTURE
The owners knew they had a big job at hand and, when we first got started, they were feeling very overwhelmed. To make the situation more manageable, we broke everything down into smaller tasks and created a realistic ongoing plan that we could work from.
THE IMPORTANCE OF ONGOING COMMUNICATION
We met face-to-face every month for half a day to discuss the important tasks that need to get done and to set goals and plans for the weeks, months and year ahead. We also had weekly check-in phone calls to chat about progress and what they were working on.
Ultimately, I wasn't there to do the work for them. Instead, my job was to guide and support their decisions and actions to grow a better business. It was vital that lines of communication were always open and that they were willing to put in the hard yards.
FROM CONFUSED TO CASH-POSITIVE
Reassured by my support and confidence and empowered with the tools that I have taught them over the past two years, they have downsized their main store, are in a cash-positive position and continue to trade in a very challenging market. We still meet and chat on a monthly and weekly basis.
Ready to regain control of your business and drive success? Get in touch with Graeme today to find out more or book in for a free 60-minute discovery session.
Are you looking for sustainable success?
Book Your Free Discovery Session NOW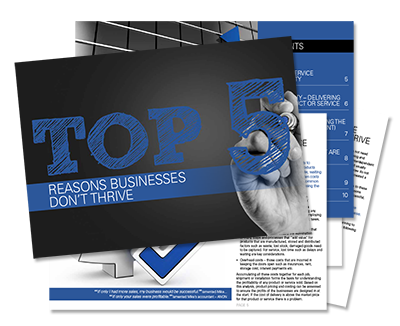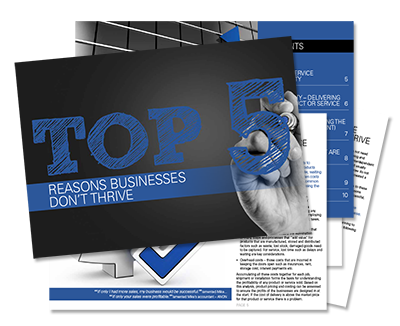 SPECIAL OFFER:
TOP 5 Reasons Businesses Don't Thrive
DOWNLOAD NOW