Business in Interesting Times
There is no getting away from it! 2020 – the start of a new year and a new decade full of promise and opportunity then along comes a coronavirus pandemic to make things interesting.
No matter what industry your business is in, the impacts of the pandemic will be felt in one form or another. Whether it be an impact from problems with supply of materials for manufacturers, the impact of absences of employees for illness, caring for family or quarantine, lack of customers, or slow payment of invoices; the very nature of business means that there will be an impact.
Whilst it is potentially a stressful time, there are opportunities for those who dare to lift their head and have a look around. From my experience, many businesses operate a "status quo" mentality because it is 'too hard to make changes and we're doing alright anyway'.
There are several key steps that businesses must follow to firstly survive the current crisis, and then to thrive in the new world that will evolve after. These 5 steps are easy to describe, however not always simple to do.
PLAN – assess where the business is at now, understand the financial numbers – that is, all the important ones like sales and expenses, profits and most importantly cash. Assess different scenarios that might occur in the short to medium term
TECHNOLOGY – social distancing, team absences for illness, quarantine or family care are all disruptions that create an opportunity to look for a better solution. Holding team meetings remotely can have big improvements on productivity. Ask yourself – with people and the work they do in the team, is there an alternate way to get what is required done? Or a simple technology that if applied will improve the productivity of the process?
EXPENSES – when was the last time you reviewed all the costs that come into the business every month? By taking a hard look at what does and does not make a difference, there is often 2 – 5% of costs able to be eliminated without impacting customer service or business performance… and sometimes much more.
STOCK AND FINISHED GOODS – often businesses get busy doing the business. Things like older raw materials get pushed to the back or those finished goods that were waiting for the customer to collect are forgotten. In a crisis like this, get inventive about how to turn these into cash and revisit the procedures that allowed them to be overlooked.
MINDSET AND HEALTH – whilst you are not responsible for the external factors affecting your business, the opportunity in this time is to take control of how you respond. In times of crisis, great leaders step forward and take action. Your ability to lead is dependent on sustaining a regime that keeps you informed of events as they unfold – but don't be obsessed; maintain a routine to achieve enough sleep – tiredness impacts the quality of your decisions. And consider who you associate with. It is well recognised that the people you associate with will reflect where you are headed. Choose who you talk with and seek out those looking for the positives and being proactive in their businesses and their lives.
As you have heard me say previously: When opportunity presents itself, we owe it to ourselves and our people to act.
Are you ready to be the next success story?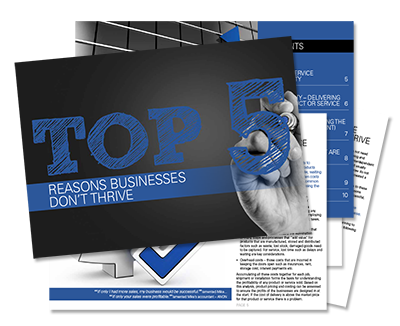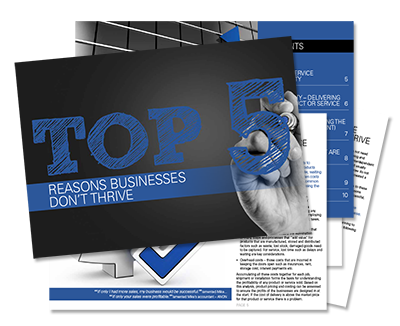 GETTING THE BASICS RIGHT
Pandemic or no pandemic - avoid the common traps that lead to business failure with this free e-book
Submit your details and you'll be given immediate access to download this FREE e-book.