I'm Graeme Fitzgerald, a business advisor (or some might say business consultant or business coach) based in Newcastle, NSW. Over the last 20 or so years I have worked in executive management roles in small, medium and large organisations across a range of industry segments. In every case, I have helped them to deliver improved profitability and growth through strategic planning and a disciplined approach to implementation.
Now, as a business advisor, I love working with people and businesses who want to achieve their potential. It's so rewarding when I can help my clients go from low returns and stress to being able to take a step back and enjoy being in business, book that family holiday and enjoy the life they've worked so hard to build.
The services I offer provide the benefits of "big business discipline and resources" without the costs of employing a full team to deliver. I work alongside my clients, to implement changes that deliver real results - increasing profits, growth and value over the long term. Together, we will work diligently towards achieving your business goals and measure your success through rigorous, regular financial review.
If you are an SME, Manager or Director who is responsible for your company's strategic direction and profitability then now is the right time for us to have a conversation.
These are some of the comments we hear from businesses:
The market is erratic and we cannot plan for the future
The profits are not great for the effort we put in
It actually costs money to own/run this business
I am always really busy and quite stressed
I feel quite alone and isolated, I do not really have anyone I can talk to
I feel that I have a good business with potential but I need someone to help me
If any of these sound familiar then get in touch or book in for a 60 Minute Growth Session.
Are you ready to be the next success story?
Book Your Free 60 min Growth Session NOW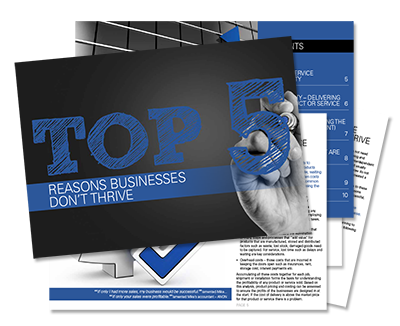 GET YOUR FREE E-BOOK:
TOP 5 Reasons Businesses Don't Thrive
DOWNLOAD NOW
Submit your details and you'll be given immediate access to download this FREE e-book.