5 PRIORITIES FOR MANUFACTURING SUCCESS IN 2021 AND BEYOND
What a year 2020 has turned out to be. 
The impact of the COVID-19 pandemic on economies around the world has been massive – and manufacturers have not been spared their version of the experience. The best description I've heard for 2020? 'Well, that certainly was a year not to be expected!'
Over the past 10 months, manufacturers have responded, out of necessity, to adjust and change direction, as well as bring forward and halt many aspects of their business. As a result and on reflection, many lessons have been learned. 
I've heard many people comment that the acceleration of change that has occurred during the turbulent months of 2020 has been equivalent to 10 years of innovation. This, in my opinion, has been one of the biggest positives of the pandemic. 
As we approach 2021, unexpected events will, no doubt, continue to affect manufacturers and business – but the year certainly looks more promising.
The term currently being used to describe what businesses must become in 2021 is 'resilient'. While I don't disagree with the need for manufacturers to be resilient, I certainly don't see it as something new.  
The new landscape set to emerge as we move beyond COVID-19 will create new challenges and opportunities for manufacturers. In this environment, I believe that there are five interconnected areas of business critical for ongoing manufacturing success:
1 – STRATEGY 
As a manufacturer, you must know who your ideal customer is, where to find them and have a strategy that allows you to deliver products and services with a point of difference. 
2 – PROFITABILITY 
Your manufacturing strategy must be profitable and reliable. Business sustainability demands this to attract the right people and to lower the risk of continued investment in process and product innovation – or continuous improvement. 
3 – PEOPLE 
While automation and artificial intelligence (AI) are great at improving production efficiency,   there will continue to be a huge requirement for people. 
We all know that people management can be difficult, but doing it well is vital. Your people will be the ones overseeing your processes and generating the ideas that lead to innovation. 
4 – PROCESSES 
In manufacturing, your processes are the drivers of cost and profitability. Change and simplification in processes can bring big benefits. In addition, standardising your processes ensures you can create the right product or service, at the right quality. 
5 – INNOVATION 
Throughout history, manufacturing has been defined by the adoption of new ideas and improvements. 
While the drive to have reliable profitability and standardised processes may seem counterintuitive to innovation, an event like a 1-in-100 year pandemic highlights just how essential the ability to shift, change, pivot, start or stop is in manufacturing.   
From my perspective, the inter-connectedness of these areas is what makes manufacturing such a dynamic and exciting industry. Success always comes to those who put their focus here and never lose sight of their customers and their needs. 
I suspect 2021 will hold many new, unexpected events, and those businesses who 'do the five' will continue to prosper.
Are you ready to be the next success story?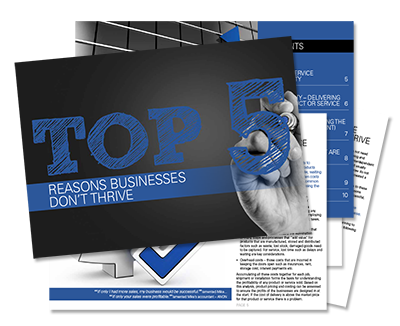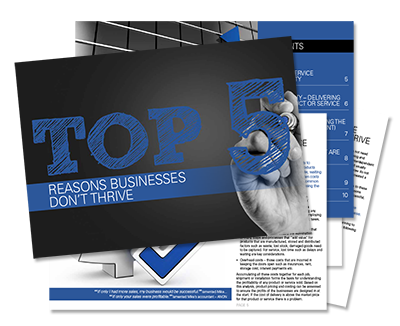 GETTING THE BASICS RIGHT
Pandemic or no pandemic - avoid the common traps that lead to business failure with this free e-book
Submit your details and you'll be given immediate access to download this FREE e-book.