Episode #8 – High Performance In Manufacturing: Part One

Another two-part episode for you listeners today, this time I am joined by Business Specialist and Manufacturing Practitioner Chris Davey. Chris is a process and performance specialist, with extensive manufacturing experience from the ground up. With a background in sports and a martial arts enthusiast, Chris brings across the application of discipline, amongst other things, into the traditional manufacturing space. With the aim to improve processes and create high-performance teams. In this episode we have a chat about;
What impacts high performance in manufacturing
How being disciplined affects the performance in business
Importance of holistic approach when hiring a person
Overcoming greatest challenges in business improvement
Find out more about what Chris does here
SPEAKERS
Graeme Fitzgerald, Chris Davey
Graeme Fitzgerald 
Welcome to manufacturing mastery with Graham Fitzgerald, the podcast. My name is Graham Fitzgerald. And for over 30 years I've led some of Australia's largest manufacturing organizations, right in the highs and lows, the occasional failure, and the plentiful successes that inevitably come with being in business. This podcast is aimed helping you progressive Australian manufacturer with practical, real world advice on navigating your pathway to sustainable success in manufacturing. Myself and my special guests will cover everything from how to embed a planning framework into your business, new approaches to innovation, the importance of culture and how to lead change, and navigating the new normal as an Australian manufacturer. So manufacturers let's master Hi, everybody. In today's podcast, I'm joined by Chris Davey, a processing performance specialist. with extensive experience in manufacturing from the ground up. Chris and I first came together several years ago in a pipe manufacturing plant and will have gone New South Wales. During that time, Chris was involved with working alongside the manufacturing operators, helping translate process improvement and control systems into a language that would make sense to an operator. Chris had a background in sport at the time and a strong interest in the application of disciplines of market martial arts in a traditional manufacturing workplace. Since that time, Chris has gone on to broaden his experience and grow his expertise across the full range of business processes, from supply chain systems through to creating high performance teams. Chris is a practitioner, you know, someone who's actually had responsibility for delivering results. Using the knowledge and experiences gained over his career. Chris has held senior positions in in businesses across Australia, and worked as an independent process improvement process and performance consultant across a wide range of industries. today's podcast theme is high performance and manufacturing. And I chose that really to capture the essence of one of the things that I've taken out of the journey that I went on, started on with Chris, and which I think he's taken to another level. So hopefully, you know the application of science and knowledge from different industries and activities, something near to my heart. So I look forward to learning from Chris's journey. Now time together, I hope we can share some of the secrets that make high performance improvement possible and sustainable. So welcome, Chris to manufacturing mastery.
Chris Davey 
Thank you, Graham, it's it's a pleasure to be joining you today and discussing all things manufacturing, it's something that's dear to both of us, and definitely a platform that's given the future out of out of manufacturing. So I think it's important to note at this point from a grant that for those listening, Graeme was was that manager for me, the one who took an interest in the development of these people. And if you have an interest that I had in process improvement, and helped him to actually grow, and, and learn and discover just what we're truly capable of if we if we're given the chance
Graeme Fitzgerald 
now. Thanks, Chris. I appreciate that. I look, can you share with us a bit about your journey in the last few years in particular? And yeah, what led you to your fascination with performance and business?
Absolutely. So over the last few years, I've been working as a process improvement consultants, sort of contractor probably don't see myself as a consultant more more in the contracting space about you know, come in will help help the business and actually do the hands on work. I specialize specialize in the merger of both businesses and human performance. So what that basically means is bringing together the systems inside the business and, and the way that people want to work to get the best out of both and try and create some synergy between between the two. I'm an enormously motivated by watching vigils reach their full potential, and come together as a high performing work team and try and create that high performing individual high performing work team environment. And together that builds their capability so they can extract the true potential of their current business processes. So business processes unless completely automated, generally require people in high performing people that high performing teams to actually extract that value.
Graeme Fitzgerald 
So can you share I guess, the fascination I have, you know, I dabbled in some martial arts back in the the back in the day, some some many years ago now, but and I understand some of the disciplines How do you see that that those disciplines you know, translate out of sport and in particular martial arts into business?
This Yes, well look, the thing that really sticks out with, with with sport at any sport and combat sports in particular is when you're developing people either through a grading system, from white belt to black belt, or you're utilizing, say, Sam in a boxing processes or kickboxing and so on, that some of the key elements that go across all sport are found most, I guess they come to a really, really important part of being inside the combat sports industry. So the the the processes of self discipline of being able to, I guess, gain confidence, assert yourself, being able to discuss things, and the growth that you achieve through through training exercises and pushing yourself. And trying for a goal is something that translates across into the business industry really, really, really well. The the formation of habits and daily habits, daily routines, and then respect for yourself that all athletes that I've ever known in the combat sports industry develop this over time. So a lot of parents and a lot of people like your kids in the martial arts, and then teenagers tend to drift towards more of a boxing kickboxing type of thing. And with MMA being the most popular now. And you start to see with a good coach and a good mentor and a good leader, you start to see really good athletes coming through who become good people, and good at what they do and very good at applying themselves to not only their sport, but also everything else in their life. So it kind of has this overflow effect. And when you see good operators who who come into businesses that want to improve themselves, want to do a good job for their family, for whatever their stage of life might be with a good leader, and I'll cover off a bit about leaders and managers in a minute. But with a good leader in an organization, you can see that person grow, develop, achieve what they're there to do, and actually gain a lot more confidence and able to self manage, unable to self direct, and have that resilience in the workforce when things go a little bit wrong. So the, for me, the parallels are very, very strong. And that that mental toughness that that resilience is what we're looking for, across both types of industries. So for me, personally, it's something that I've always tried to drive forward into any business that I'm working with, to get those daily routines, right, to get the daily discipline, right to give give people a level of sort of achievement, so they can start to form their own identity, and create their own identity inside that business. And then then they matter, they belong somewhere. And they actually fit within a team and they've got value and so on. And a good leader can recognize that and start to bring that team along. So with with a lot of businesses that I've been working with recently, moving more into the small and medium sized businesses, they, they generally try to manage their people. And one of the things I always try and do is say you've got to sort of manage your processes and lead your people. And if you're having people problems, where you've got a process to manage people problems, at all times, you have to try and lead them
Graeme Fitzgerald 
from where they are the differences, leading, not managing your team. That's exactly the process that will take your people.
That's exactly right. And that's, that's one of the things that you learn in, in, in martial arts, you've got the process of training and grading and so on. But you really need to lead them by demonstrating and doing and helping and listening, understanding what they're facing, and bringing them up through the ranks that way to become a self reliant, self capable person that has an identity of of being that kind of being someone who's resilient and fine. And you can you can translate that straight across into into the business world. Okay.
Graeme Fitzgerald 
So when you when you join us on our journey to bring process control and improvement to the old pipe making manufacturing site, what was it that attracted you to start down that path? Because I guess, you know, it was an unconventional career step for you. And, and, and a lot of others thought so as well. And how's that influenced your career sensing? Yeah,
look, the thing that I've thought about this quite a bit, and I guess the, the answer each time has probably been the same it was, it was all of the random variation within processes and the problems that are caused that really got me interested. And I can remember trying to look at what I could do to try and solve the processes and I think that a lot around that same time you were managing the plant. And what I experienced through that through that period, because sometimes you've got to experience the very bad to become very good. Those processes, whether their employment process production processes or as asset management processes, I would see the variation in total devastation that it would cause within a standard working day. Now, anything could be happening. So we suffered some injuries, we saw some safety issues, then I saw people trying to solve problems, but people have variation between each other and how they solve problems, or engineering thing, they had a similar thing going with being very, very clever people, but soul trying to solve a problem in different ways to each other. Now that that variation on its own can sometimes create its own havoc, and we put a fix in place, and it worked at that particular point in time. But when we have a similar problem, again, we do the second fix, and it doesn't work. So that kind of led me to think what we've done, I don't think we actually understand that process very well. So and I think we had some discussions around that time, about a bit going down the journey of, of learning about problem solving and decision making in standardizing your approach. And that's really where everything kicked off. And since since that point, I've discovered sort of how to work with IBS or different processes, implementing Lean Six Sigma, cabinetry, gos methodology, and looking at what we can we build in terms of work on input matrix, which is basically a checklist of critical process input variables and metrics and standards and how we empower work teams to actually work towards building their own implementations to control control the processes in their area, and how they problem solve, and so on. So that that was really I think, all I have to say, the random process variation is what kicked me off. And at the time, I didn't know that was what it was called. But it was, it was it was just basically pain and suffering, and low morale and high absenteeism that drove it. So
Graeme Fitzgerald 
that was one of those things that if I understand you is that, you know, I'm not sure why I did the grind, but it intrigued me and having trained was what led me down that path, and it's led you quite a long way down the different paths. Yeah, yes. Absolutely. Are you looking to grow your manufacturing business need some support to achieve your goals? My manufacturing mastermind group is a great place to start. This exclusive group receives monthly worksheets and guidance around the five key principles of manufacturing growth is a monthly live virtual q&a session, and the live mentoring call with a mastermind member where we troubleshoot the business challenge of the day. Plus, this group comes together on a quarterly basis for a one day workshop to ensure accountability in the delivery of your business growth plan. Find out more by visiting Brian fitzgerald.com.au slash mastermind. Can you share with the audience how you see the the connection and with the manufacturing businesses in particular and performance? I guess I hear the way I listened to you talk is that you're you're on journey to mastering an understanding of how performance can impact business and improve business. So can you share with us how you see that connection? And maybe expand a bit more on things you've been talking about?
Absolutely. Well, for starters, I think the first thing to recognize with any manufacturing businesses that there is always multiple processes at play. And each each process is at a unique stage of what I call process maturity. And that's that's becoming a very widely used term now. Which means that they're suffering some form of unique variation that is now with with people performance and or human work with human performance. I like to what I like to do is work through how people understand their variation, where their processes are at the levels of process maturity inside the organization. And sort of get to a point where we can actually measure this, this process maturity. And at the same time, as we're measuring process maturity in a factory setting, we're also measuring capability or human performance capability with knowledge, skills, mindsets, and what we also sort of delve into, which is the personality traits. Now, ideally, we like to match people with processes. So we use this whole series of tools to look at, at what what we can do in terms of getting the right personality trait to work on a specific type of process. And I use a tool called the risk motivation profile. Because I think it's one of them is scientifically validated profiling tools that I'm aware of. And that works by taking people's traits such as a high need for independence or hunted for order, or hunted for social contact or status. And we can match them with the actual job role that they that they're working in. So this is one of the most recent areas that I've been working on. And then what, how that would reflect, I guess, is that if you've got a process, that's the self control, you need, somebody who's got a really high level of curiosity has a high need for order, their skills, the mindset, the qualifications, what they've studied, we want to bring all this together and put them in in that setting. So they can then start to work on implementing process control standards, investigating, measuring, creating, basically getting inputs under control. And then once you've you've got your process maturity up, you really want to remove them from that setting, and bring somebody in who has a high need for order. And is is basically happy to do that day to day discipline of sitting in machine work should be and then continuing on with production, then sitting obviously, triggers to let you know that something's not quite right.
Graeme Fitzgerald 
What you're saying, Chris, is that in, in the past live, I might have recognized this sort of behavior and seeing people who were brought in to start up a new plant and get it all up and running, got bored after about 18 months, and started to have trouble actually getting the performance of the plant operating. So you weren't saying is there's actually some science behind that.
There is yes, that's that's 100%, right. And so the organizations that I've worked in, they actually bring in subject matter experts, when they do a start up. Yeah. And those subject matter experts will actually, they'll actually get the processes in place, they will. And the processes don't exist at this stage. So they'll I'll get them all in place, they'll get them running, create the training manuals to get the training logs, and create the the state proofing and control mechanisms around each each process input so that you can't get it wrong, then once that's in place, those people step back, and you bring in a workforce that can then operate those processes. Now, let's go to that as a two fold effect, because you kind of pay subject matter experts a premium for managing the variation and getting the processes in place, and I guess standardizing and stabilizing. But when you replace them with the workforce, there's not that much that much effort required different type of skill and different type of motivation, and 100%. So you can then you can then re reorganize your workforce to then suit the people that can run it day to day. Now, if your processes are mature, and you've got you've got things in place by which you can you can have tremendous process capability and tremendous process stability. That it's a very, very simple operation. Right. And that's, that's pretty much the mission that people go on now, to get the right people. The personality traits of the subject matter experts are very, very important as because they're their traits that you want to see people love to achieve. Very, very curious, obviously have a strong background in education, love to love to continue to read it can be formal and informal. And can also work well with others under pressure.
Graeme Fitzgerald 
So taking that that holistic approach. I guess I see that as a holistic approach to running a manufacturing businesses to really deeply think about the type of work that's happening and and who were the right people to do that work. What are the benefits? You've seen? Where you've been able to apply that in, in more recent times? Yeah, the,
I think probably the biggest benefit that we've we've seen is a is a workforce that doesn't, it doesn't require as much, I guess, catch up type type of work. In terms of all of all the costs of a workforce shrink. Yeah. So when you need if you're playing catch up game with overtime, which is where you really don't want to be you want to you want to use overtime to produce more product. Yeah, and get ahead and, and sell that product, because the markets there. So with with a good stable workforce and a holistic approach you get you get people that are engaged, they they want to be doing the role that they're doing because they've been matched to the role correctly. I think it's a statistic like two and 543 and five people are in the wrong job. So We take that pretty seriously. And look at that. Is your workforce, the actual Is that the right workforce to have? Right, are you? Have you employed pretty much anybody that wanted a job? And then they don't want to be there anymore? So there's, I'm sure that there's workplaces out there that have suffered that. Yeah. Or maybe you're still suffering that that at the moment,
Graeme Fitzgerald 
what you're saying is, you know, one of the benefits really is a high high performance work team, which leads to productivity levels that may not be there in a an organization where there's less focus on that holistic perspective than
Yes, yeah, that's right, that's right, you get you get to extract the relative value of your current processes. Yeah, without having to spend money on on automation or on on capital improvements. That's exactly what you get. That's and that's, that's the one I always preach is extract your relative value. And I know that some people have over engineered their processes, and they can, they could send the produce four times more than what they used to, but they're still producing insane amounts. Yeah. And that's, that that just comes down to really, really working on your current state and making sure that you can extract that value. Some of the other benefits, I guess, when you when you get this holistic approach going, is that that agility, and this is probably a personal thing of mine, when I hear people say that they do agile or things like that, that had to have an agile business, it has to be built on capability and stability. They're the two main foundation stones. So if you're not capable, or stable, you can't be agile, because you either increase, increase defect rates or rework rates, and so forth, or, or you're completely outside of that capability range, and you can't, you can't produce it anyway. So when you when you do get that holistic approach happening, the the Agile aspect works. And that the pressure and opportunity that presents itself, when when a when a factory is in full flight can sometimes be overwhelming for people. So I often say that the only way you're going to get to know your workforce is when you see them under pressure or opportunity. When you create that, when you create that, that I guess it's a positive pressure when you reopen, you're producing and things are working as I showed, you want to know that your workforce will respond and actually carry that along. So you can you can extract it out of whatever investment you've made to improve, improve your business and the processes that you're actually extracting it by a workforce that's willing and capable, rather than being pushed.
Graeme Fitzgerald 
I love that concept that the way I heard you described there is agility can only create benefits to build on a solid foundation.
Yes, absolutely. Otherwise, you're mass producing defects and having breakdowns and so forth.
Graeme Fitzgerald 
Thank you for being part of this week's episode was great to have you. I'm always keen to hear your thoughts, questions, ideas and suggestions for future topics for the podcast. So please get in touch to my Facebook page. Graham Fitzgerald, manufacturing growth specialists. My LinkedIn page or via my website, Graham fitzgerald.com. That's a that's gra me Fitzgerald comm delay. If you're enjoying what I'm putting out here, please rate review or subscribe to the podcast so more manufacturers can find out about it. And we can build our community masterminds, manufacturing this great nation. Talk to you soon.
Request a
FREE consultation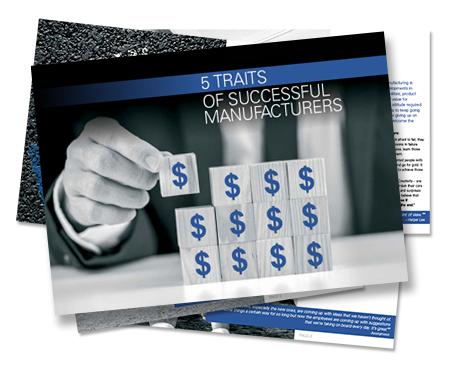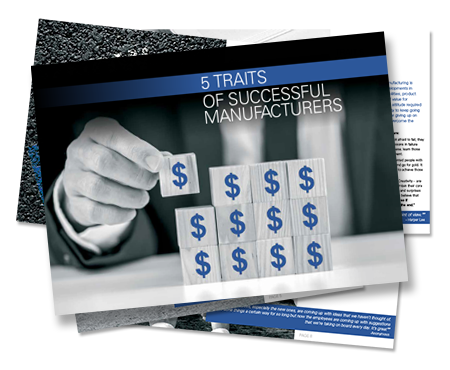 SPECIAL OFFER: 5 TRAITS OF A SUCCESSFUL
MANUFACTURER EBOOK
DOWNLOAD NOW